Free Christmas Gift with Cosori, COBB, Winix, Levoit, MySoda and Honeywell Orders.
Deliveries for Friday 08/12 and Saturday 09/12 available.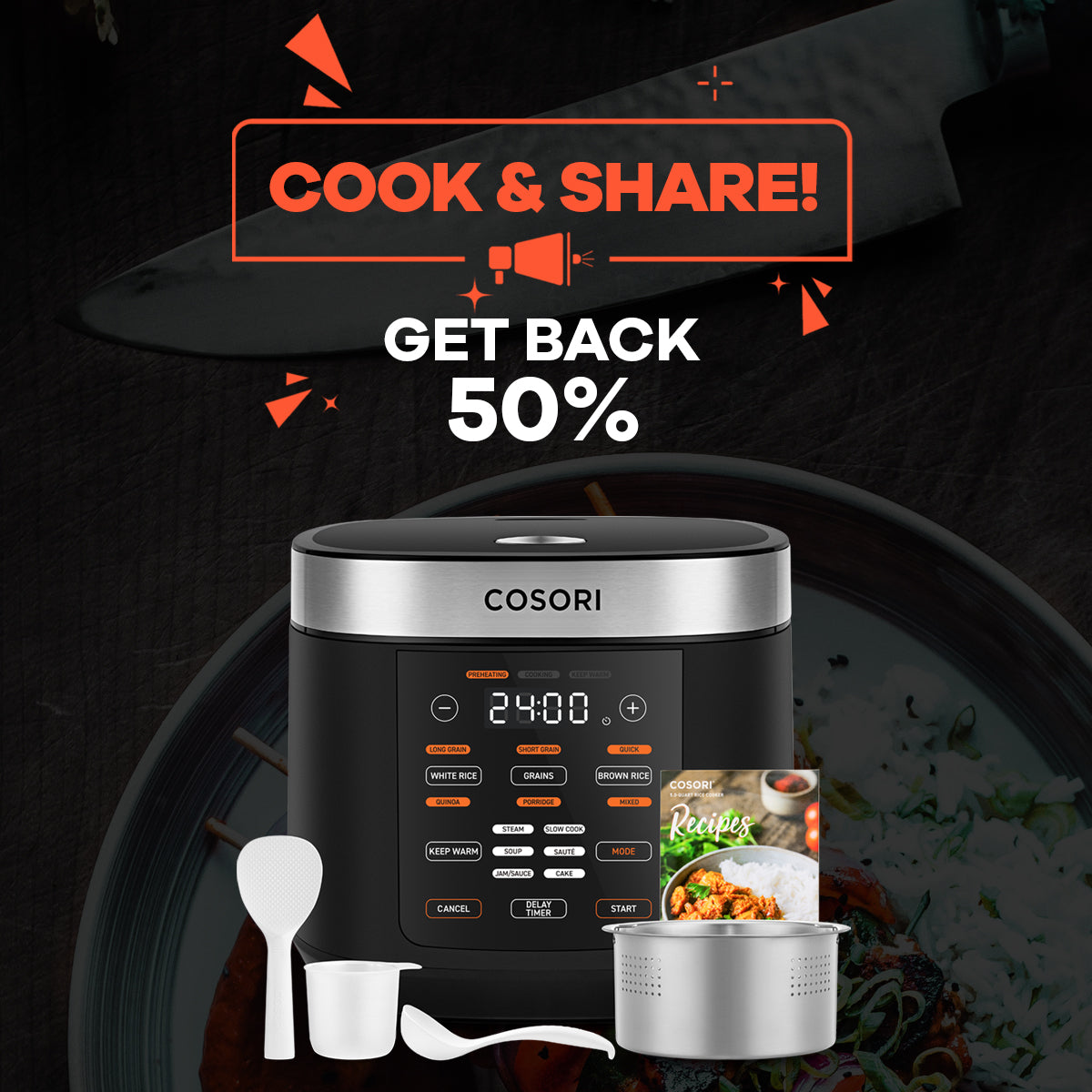 COOK and Share and get 50% of the cost of the Cosori Multifunction Rice cooker back.
Please read the rules before buying!
*********** 50% discount LIMITED offer! ***********
Do you have a passion for cooking, an Instagram page, and would like to try our new Cosori Rice/Slow/Steam Multifunction cooker at half price? Yes?
Share on your Instagram page THREE recipes done on your new Cosori Multifunction Rice cooker, let us know and get 50% cashback. Read the rules by clicking the link below.
Click here to view the rules and terms of this offer.
Cook delicious rice with the touch of a button with the COSORI 5.0-Litre Rice Cooker. Featuring 18 functions, it can cook your favorite type of rice to the perfect texture. The rice cooker follows a precise 6-step cooking process to make sure your rice is evenly cooked every time. It's simple and easy to use with a guided LED display that walks you through the cooking process. When you're done cooking, all accessories are dishwasher-safe for easy cleanup
What's in the box?
1 x 5.0-Litre Rice Cooker  
1 x Inner Pot
1 x 3.0-Litre Steam Basket
1 x Standing Rice Paddle
1 x Measuring Cup
1 x Soup Ladle
1 x Recipe Book
1 x User Manual
1 x Quick Reference Guide
More Than Rice with 18 Functions: Choose from different types of white and brown rice with texture options, 3 types of grains, 3 types of oats, steamed vegetables, slow cook soups, and sauté flavored rice. You can prepare three meals a day in one pot.

Perfect Rice Every Time: Whether you're a cooking novice or an experienced home cook, our rice cooker uses fuzzy logic technology to automatically adjust the 7-step cooking process, ensuring that you can get fluffy and evenly results.

Effortless Cooking: You can enjoy warm and fresh rice anytime with the automatic 24-hour keep warm and 24-hour delay timer functions.

Quick Cooking: The perfect rice is worth the wait, and our 'Quick Rice' feature allows you to cook white rice more quickly in a pinch at 1000W of power without sacrificing taste or quality.

Easy to Clean: All accessories including non-stick inner pot and removable lid are dishwasher-safe.

Easy to Use: The bright LED countdown, guided touch display, and clear measurement marks walk you through the cooking process easily, while the alert tone lets you know when your rice is ready.

Compact and Capable Design: Our 5 qt / 10 cup capacity meets all your family's meal preparation needs, while the compact design ensures it doesn't take up excessive kitchen space.

50 Recipes: Your rice cooker comes with a free recipe book featuring 30 chef-created recipes, and you can discover even more recipes on the free VeSync app.
More than just a rice cooker
Advanced Fuzzy Logic Micom Technology
The rice cooker has fuzzy logic micom technology built into a computer chip that automatically adjusts temperatures for environmental factors like humidity and heat for consistent results.
Dual Heating Elements
Top and bottom heating elements equipped with temperature sensors reduce condensation dripping back onto your rice for reduced sogginess and ideal textures.
White Rice
Choose from long grain rice like Jasmine rice, medium or short grain rice like sushi or sweet rice, and porridge like congee. You can also customize the textures of your white rice by choosing between soft, regular, and hard.
Brown Rice
Choose from long grain rice like wild rice, medium or short grain rice, and porridge like congee. You can also customize the textures of your brown rice by choosing between soft, regular, and hard.
Oatmeal
Choose from steel-cut, rolled, and quick-cooking oatmeal for a quick and healthy breakfast.
Grains
Choose between quinoa, barley, and farro for nutritious grains to add to your meals.
Quick Rice
Cook rice quickly and conveniently to make homemade meals in a pinch without sacrificing taste or quality.
Steam Mode
Steam healthy dishes like vegetables, fish, chicken, eggs, and seafood with the 3-quart stainless steel steam basket.
Note: The stainless steel steam basket is not for cooking rice.
Slow Cook Mode
Make homemade meals like soups and stews with minimal effort.
Sauté Mode
Cook up veggies, meats, and more with a convenient inner pot that stays in place while you sauté.
Technical Specifications
Power Supply: AC 230V, 50HZ

Rated Power: 1000W

Weight: 4.2kg

Dimensions: 32 (D) X 27 (W)  X 23.5 (H) cms
Cosori R-501 5 Litre Multifunction Rice Cooker & Steamer - COOK and SHARE OFFER - READ RULES BEFORE Purchase
Regular Price

€139.00

Sale Price

€139.00

Regular Price

Unit Price

per
VAT 18% Included
How to remove and insert the Inner lid